We're officially at the one-third mark of the college football regular season (slow down, calendar!). As the season enters October, who is starting to separate themselves from the rest of the pack as contenders for the College Football Playoff?
The top candidates for the final four are somewhat similar to what they were when the season started – Ohio State, TCU and Baylor are still in contention, and they have been joined by Michigan State, Ole Miss, UCLA, LSU, Georgia and Notre Dame in the AP top-10.
Perhaps the biggest unknown is who will win the SEC West, a probable top candidate to find its way into the final four. Realistically its down to four teams – Ole Miss, LSU, Texas A&M and Alabama. I like Ole Miss right now, but anyone of these teams can win the West.
Other huge match-ups that should go a long way in deciding conferences and possible playoff berths are USC-UCLA, Michigan State-Ohio State, Clemson and Florida State, and Georgia-Florida.
The Big 12 is a bigger mystery than what it looked like to many when the season began. The obvious frontrunners of Baylor and TCU are still there, but the state of Oklahoma will have a huge say into who wins the league. OU and Oklahoma State are not going to go gently into that good night and give both the Bears and Frogs all they can handle. And as Texas Tech has proven over the last two weeks, you better bring your A-game when you play the Raiders (Baylor, I'm looking at you this week).
Pretenders
The most obvious pretender from the preseason polls and expectations is Auburn, who dropped its second consecutive SEC West game to Mississippi State at home on Saturday. The fact is, Auburn has been a myth over the past few years, living mainly on its traditional name, smoke and mirrors, and incredible luck. The Tigers won in 2010 because of Cam Newton and a capable defense. They won in 2013 due to incredible good fortune, winning three games they easily should have lost. Other than that, they've been average (or below average, both this season and 2012). Will this team make a bowl? I can't see any SEC teams on their schedule that is a "gimme" so the jury will remain out.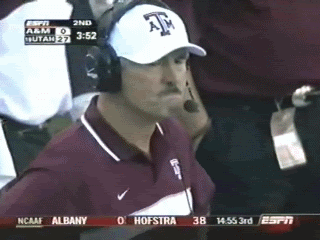 Oregon, a pretender? I hesitate to actually call them that, but when you get ripped in your own house by Utah, 62-20 – the most points ever allowed by the Ducks at Autzen Stadium – that deserves a (Carl Torbush) "wow."
The entire state of Arizona had the stage on Saturday and abruptly laid two eggs. UCLA and USC rolled into Arizona and Arizona State, respectfully, and took it to their hosts. It probably says more about the two California teams, but even Lee Corso's mascot head pick of the Wildcats couldn't save them this past weekend.
Arkansas was on everyone's "biggest disappointment" lists over the last two weeks. But they got
back to what they do well on Saturday vs. Texas A&M in running the football and controlling the clock. They almost pulled it off against the Aggies, controlling much of the game with the biggest line in all of football (college or pro). Defense is what is holding back the Hogs now, as they must now travel to Tennessee and Alabama next. They are in real danger of being 1-5 afterwards and probably deserve a better fate. Oh well, pass the bacon.
Games to Watch This Week
Alabama at Georgia
West Virginia at OU
Mississippi State at Texas A&M
Texas Tech vs. Baylor (AT&T Stadium)
Ole Miss at Florida
Notre Dame at Clemson